Ohnward Fine Arts Center presents

The Jersey Girls
Saturday September 17, 2022 at 7:00 PM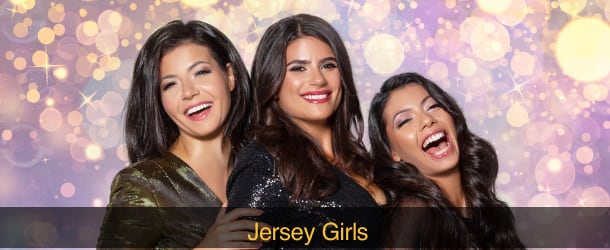 "Pure class and talent"
"Three lovely ladies... three unique voices... three distinct singing styles come together as one! Often described as "pure class and talent", there's no surprise that the Jersey Girls are Midwest's most popular and loved girl group.
This national touring act has performed at State fairs and festivals in over 30 states and was featured at the Paris Hotel in Las Vegas, as well as on multiple TV shows and programs throughout the country.
Whether they sing your favorite Oldies-but-Goldies or the music of today the Jersey Girls will make your heart sing along. Once they step on the stage they easily become the heart of every celebration and gathering. One thing is for sure - you won't be able sit still for too long!
If you love beautiful vocal arrangements, three part harmonies, eye-catching costumes and energy packed performances - this show is a MUST-SEE for you!
Tickets:
$22 (in advance) $25 (at the door)
Students (18 & Under) Tickets:
$13 (in advance) $15 (at the door)
All Seating is General Admission
More Information about the Jersey Girls
This is a story of friendship, passion, and love for music... Diana and Sonya are originally from Bulgaria, and Daniela is from Italy. The girls moved to the United States seeking better opportunities and a brighter future. All three of them started singing at a very young age and performed as solo singers with a variety of different bands. They met in 2016 by coincidence, but now they believe that everything has happened for a reason. Once they realized that they all shared the love of harmonizing and their voices fit perfectly together, they knew they were on to something great! Daniela's angelic voice hits impressively high notes with full strength in the Jersey Girls' pieces. Sonya's genuine, yet powerful voice brings an extraordinary range to the table. And Diana Jadé fills out the sounds with a soulful, raspy quality. Soon after they met the three of them began practicing four days a week while working day jobs and simultaneously performing gigs on the weekends. They became best friends and spent almost every day together - singing, dancing, shopping, traveling and most importantly, planning their future and their musical journey together. Almost four years later, all the hard work, sleepless nights, road trips and uphill battles finally started paying off. The Jersey Girls have now proudly become one of Midwest's most popular and beloved girl groups . They were invited to perform the lead piece from the soundtrack of the Broadway musical "Dreamgirls" on FOX television in the summer of 2017. The same year they also appeared two times on Chicago's very own channel - WGN, performing a dance/pop medley and Christmas music. In November, 2017 the Jersey Girls had their debut on the national music scene performing a sold-out show in PARIS Hotel, Las Vegas. In the summer of 2018 they toured the country, performing state fairs, festivals, and theatre shows in over 20 states. The Jersey Girls are now, as venue owners often like to say - "raising the roof" every weekend in the Chicago-land area and all around the Midwest. With their harmonies, choreographies, eye-catching costumes, and high energy performance they easily become the heart of every celebration. Expect to see them on the stage, on the dance-floor, by the bar, or even at your table! They are best known for their energetic interactive performances where guests often feel as if they are part of the show. Whether they sing in front of ten, one hundred, or one thousand people, the Jersey Girls bring their full energy and vocal capacity to EVERY show and put a smile on EVERYONE'S face in the audience!